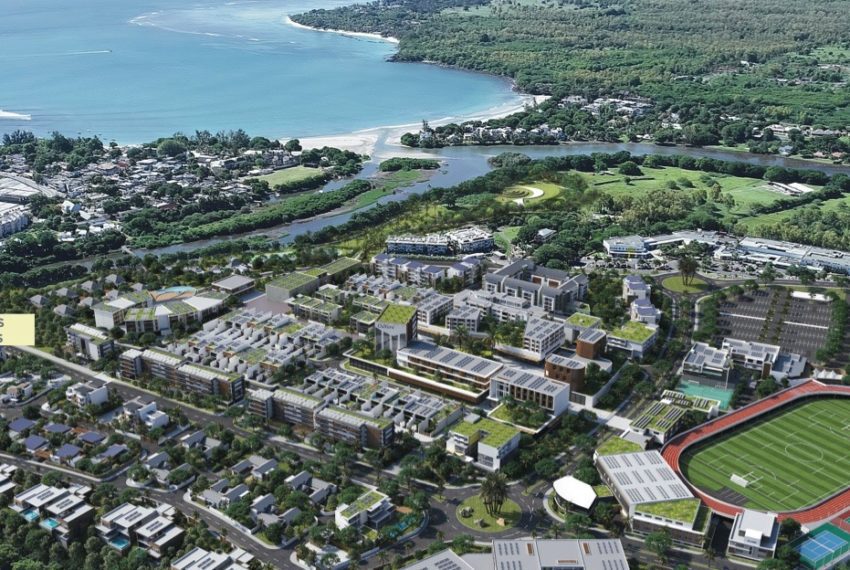 Mauritius is a paradise island where there is a sweet sound of a holiday in the heart of the waves and the white sand. The idea to settle down for your retirement, a sabbatical year or even to settle down there permanently has surely crossed your mind. You want to buy house in Mauritius or maybe you're just looking for a project in Mauritius? You want to invest, but you don't know where or how? So, Cap Tamarin may be a solution for you!
The Cap Tamarin Project
Cap Tamarin is a huge project to create a smart and happy village of 44 Hectares which would be located 5 min walk from Tamarin Bay which is ideal for surfing and well known for its sublime sunset. With the mountain La Tourelle in background, this offers an ideal setting for this large-scale project.
Cap tamarin is a collaborative project to achieve an exceptional quality of life between relaxation and entertainment in this magical place by building a responsible Eco village, whose goal is to privilege active modes of transport such as walking and bicycles since everything will be close. You will no longer waste time in traffic jams and got more time for yourself and to spend your family.
The project is built around well-being and saving time in order to combine work and entertainment to enjoy the best of life. You can therefore find in this smart city accommodation for all stages of your life: villas, loft, apartment, retirement home. But also, schools, green spaces, workspaces, shops, sports centres and many leisure places, all close by.
The Cap Tamarin project is a huge smart city project in which you have the opportunity to invest, buy, rent and contribute to this ecological project and which would bring a real plus to Mauritius. Cap Tamarin will be a cosmopolitan, active and future oriented city waiting for you. It will generate many job opportunities. Areas that will be encouraged are: renewable energy, water resource management, green mobility solution and service to the persons. So, come to invest in Mauritius and enjoy all the above advantages.
The motor of Cap Tamarin: who is at the origin?
The engine of Cap Tamarin is the Trimetys group which is a family business since 1998. It's a company that has grown a lot in the last 20 years by capitalizing on their Tamarin fief. They have been behind many projects such as Paul et Virginie school, Riverland Sports Club and other shopping centers such as La Place Cap tamarin.
They are located in Mauritius, Rodrigues and Reunion Island in the four economic sectors: property, education, tourism and agri-food. Now they are tackling this great Project Cap Tamarin where their objective remains the same from the beginning that is to combine well-being of the community and responsible development especially in Tamarin in the Residential Zone. So, you have the opportunity to participate in this project and why not make a foreign Mauritian purchase.

The Cap Tamarin projects
Cap Tamarin will start with the following products:
Ofis are flexible buildings for mixed and flexible use. They have a commercial space capable of holding a large team in their premises. Ideal for start-up or micro enterprises. They will be located in the center of Cap tamarin and are equipped with lift, parking and interesting rental return.
Freedom Hill is a residence for seniors. It is a perfect place to rest. Located in the heart of Cap Tamarin, this residence offers its residents their independence, security, but also ways to maintain social ties. This residence is composed of 63 modular dwellings, elevators, parking, solarium, service for maintenance, security 24h/24, a communal swimming pool and many other entertainments.
The Barachois Gardens are residences composed of apartments and lofts. It is a harmonious nature-inspired residence that will be located west of Cap tamarin near the beach which is only 5 min. They will start with 28 units on 3 floors ranging from 86.6m2 to 176.5m2 on the top floor.
8 Villas that are designed by Mario Guillot, who is a renowned designer in Mauritius. Modern and luxurious but keeping the natural charm, they are created to be unique environments and will offer all the necessary comfort to their owners like a private pool, 4 bedrooms and a garden in an area between 398m2 and 518m2.
Villas Alloes will be 14 individual villas of 175m2 of 4 bedrooms with a swimming pool and a private garden. They will be located 5 min away from amenities such as shops, bars and restaurants. Other projects are still coming, such as the Modulo and River Loft buildings, but are not yet on sale. Cap Tamarin is waiting for you.