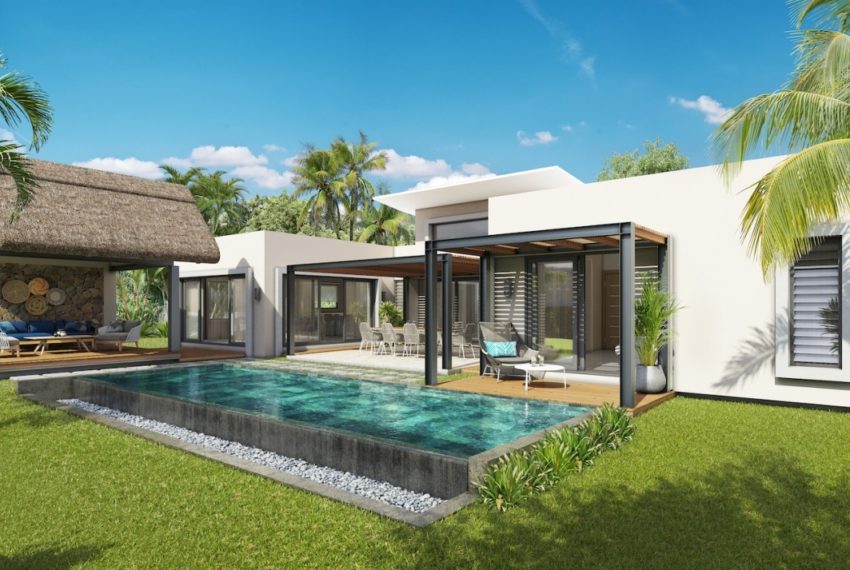 The construction of the 12 high-end villas at Résidence Laelia in Trou aux Biches has started and work is progressing very quickly. These villas for sale under the Property Development Scheme (PDS) are accessible to Mauritians and foreigners. Take this great opportunity to acquire a luxury residence in an exceptional setting.
An ideal location
The residence is ideally located 100 meters from the beach, in the heart of the peaceful seaside village of Trou aux Biches, and 10 minutes from Grand-Baie, better known for its nightlife and its many restaurants and shops. The northern region with all its beautiful beaches and lagoons is ideal for all kinds of nautical activities such as kite surfing and scuba diving, or even beautiful catamaran trips to the islands off the coast. The villas overlook a lush 10,000 m2 garden. In the heart of a very lively district and always with the Mauritian character, the residence is located on the edge of one of the most beautiful lagoons of the island

Different categories of villas to choose from
The types of villas are 3 or 4 bedrooms, with sizes between 201m2 and 322m2. All have beautiful interiors carefully thought out and opening onto the luxurious green gardens or the swimming pool. You can even choose the turnkey solution where your luxury real estate purchase Mauritius will be delivered to you fully furnished, equipped and decorated by Lemon and Lime, our partner for this project. The beautiful Laelia villas have been carefully designed by talented decorators who have opted for contemporary and elegant interior decoration. You will immediately feel at home when you arrive. All you need is your personal belongings.

Obtaining a residence permit for foreigners
The new 2020-21 budget announced by the Ministry of Finance, Planning and Development in early June, now encourages foreigners, even more, to invest and settle in Mauritius. Thanks to these new measures, it is now possible for non-citizens to automatically obtain a residence permit when purchasing luxury Mauritius as part of the PDS program with a minimum value of USD 300,000 instead of 500 000 USD. In addition, holders of a residence permit can now take their parents to live with them in Mauritius as dependents. This is great news for those who have always dreamed of living a good life on a tropical island.
Do not hesitate to contact us for more info