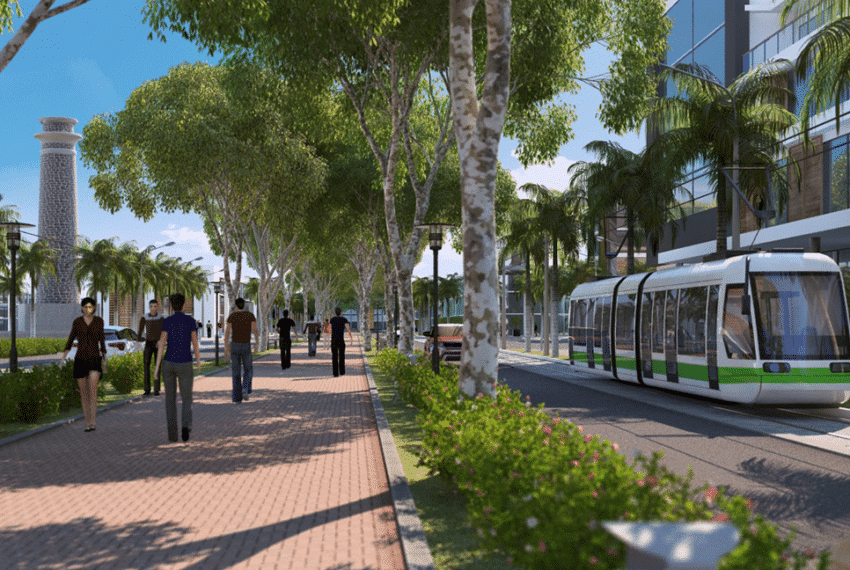 Mauritius is an island full of resources, especially in terms of culture. It combines a mixture of culture that creates all its charm in addition to its sublime landscapes with heavenly allures. Mauritius is now looking to the future by building Smart City with the aim of offering nature more responsible Eco City. That's why cities like Moka are turning to smarter urban spaces. Maybe an opportunity for you to invest in real estate Mauritius.
Investing in Moka's future Smart City
Moka is a warm town where life is good. It is located in the heart of Mauritius, that it is found in the area which has 70% of the purchasing power and 40% of the population. It is also well served by the road network, which gives it a strategic location. Moka will become an interconnected city that will be in perpetual development and turn towards the future.
The project for this smart city is to combine nature and a dynamic life whose objective is to obtain a young better quality of life. So, Moka will have a developed educational system. Starting from the nursery to the universities with student accommodation available for young people to welcome them to the best.
Further changes such as shops will be developed which will offer a wide variety of local shops. The city center will be organized to bring entertainment. Moreover, the establishment of new hotel will bring animation.
Moka a Smart City Eco Responsible
Moka will make use of many sustainable resources such as the establishment of a sorting and recycling center for the city's waste. Use of clean energy and non-domestic water for public places. In order to reduce the emissions of Co2, new stations will be built, but also bicycle paths with self-service bicycles, pedestrian areas and a tram will be built.
The city will be redeveloped while promoting cohesion with nature. This is why there will be outdoor fitness facilities, creation of urban green space, sports association of the city which aim is to adopt a healthy lifestyle and in the well-being of all the inhabitants. It will become a conscious Eco city where sustainable development will be honored. To create an ideal symbiosis between work and life in order to boost investment.  By integrating the latest developments in urban planning and technology.
The projects of Moka
Bagatelle
Bagatelle is an ongoing project that aim is to be a commercial district combining residential, office, leisure and commerce. It is primarily looking for embassies, businesses of all sizes, dealerships and hotels.  This is an opportunity to invest in this well located and attractive neighborhood.
Helvétia
Helvétia which will be a family district will be constituted of many quality educational systems like French private schools from the nursery to the secondary.  Many supermarkets, pharmacies, hairdressers and sports centers, all the amenities that a family need.  All in a warm and family atmosphere. Ideal for making a home purchase in Mauritius.
Telfair
Telfair will be the city center of the smart city. This neighborhood will bring together educational system, health spaces, cultural spaces, a business district where you can purchase a professional local in Mauritius, to attract the youngest and create life in this Smart City. To facilitate the arrival of hotels and companies, car parks will be available and to attract more bars, restaurants, supermarkets, student accommodation will be available.
Saint Pierre
Saint Pierre will be exclusively a commercial area that will be served by buses to facilitate access to the neighborhood. A sorting and recycling center will always be present in this area with the idea of a responsible Eco city. Eventually all neighborhoods will be connected by streetcars that will facilitate even more exchanges and mobility.
Vivéa
Vivéa will be a business park, compose of offices, incubator of enterprise and nursery with flexible schedule. The style of this neighborhood was built in a former factory building that gives it a unique charm. It is located 5 minutes from the station of St Pierre. It is a space where you can buy or rent offices but also many vacant building lands that are on sale the opportunity for you to make a foreign purchase in Mauritius.
Courchamps
Courchamps is a residential area with an equestrian center. It is a rural area not far from the urban area of Moka. It is a quiet area but with quick access to the city. Ideal for families, because it is located in a sumptuous area overlooking the mountain chain of Moka and with numerous bicycle path to do a great family ride.