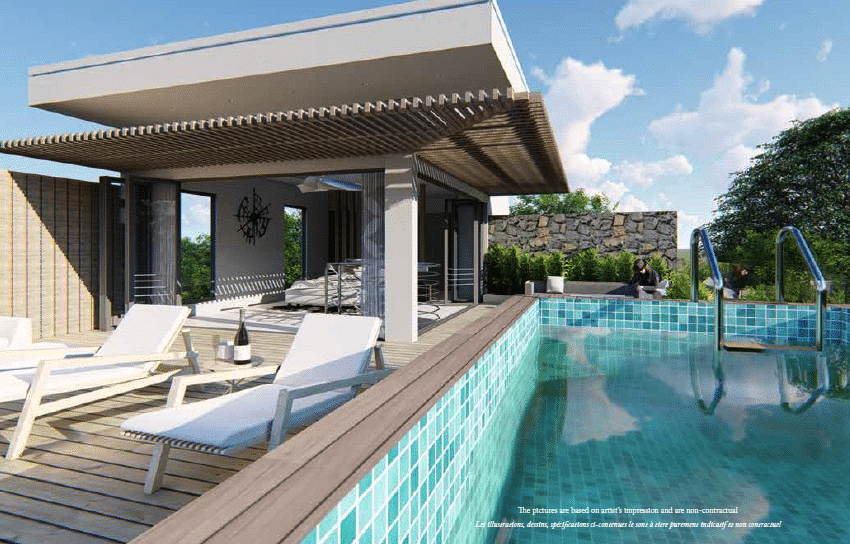 The Gaya Residence is located in Péreybère in the north of Mauritius, a few kilometres from Grand Baie. This upscale residence is completely accessible to foreigners. Live close to the beach of Péreybère which is known as one of the most beautiful in Mauritius. In addition, Grand Baie is the most famous seaside resort in Mauritius and offers a wide range of leisure and leisure activities. Buy apartment in Mauritius is the guarantee of a lucrative investment for a dream life.
Residence Gaya
This residence perfectly combines tranquility and accessibility. It was designed in a modern architecture and integrates completely with its environment. This luxury residential complex is divided into 3 2-storey buildings, 6 apartments, 3 of which are on the ground floor with private garden, revealing at the top 3 magnificent and spacious Penthouse with terrace and jacuzzi.  In addition, this luxurious residence is located close to shops and good schools. The happy owners will be able to benefit from everything they need.
The luxury apartments
Luxury apartments of 152 sqm with private garden are offered to potential buyers. They have 3 bedrooms, 2 bathrooms, a kitchen, a dining room and a large living room. The apartments of the Gaya Residence are on sale from € 200,000. You will have at your disposal a cleaning service, a secure parking, a terrace, an outdoor area and a large swimming pool. These apartments, are a haven of peace in this restful world. Enjoy a peaceful life in a modern and luxurious environment.
The luxury penthouses
The penthouses of the Gaya Residence offer magnificent views of the coast, in a pleasant and contemporary setting. The exclusive amenities, such as the private terrace and the Jacuzzi, invite you to a relaxing atmosphere in a privileged area where time passes at the peaceful rhythm of the island. Offering 3 bedrooms and 3 and 2 rooms, the luxury penthouses are on sale from € 350,000. The 3 penthouses cover an area of 235 m² and have all the necessary assets for a pleasant life in the north of Mauritius.
Living in Péreybère
Its mosaic of activities, its warm welcome and the surrounding effervescence make the North Coast a very pleasant place to live. Many investors make a luxury purchase in the north of the island. Life in Péreybère is very exhilarating, especially a few minutes from the beautiful public beach of Péreybère and the bubbling village of Grand Baie. For your entertainment you will have the choice between several nautical activities, restaurants, trendy shopping centers, spas, luxury hotels, bars and night clubs. It is the guarantee of a stimulating and promising daily life and an uncompromising comfort of life.
[metaslider id="11405″]
Feel free to fill out this form if you wish to have information. An advisor will call you back as soon as possible.