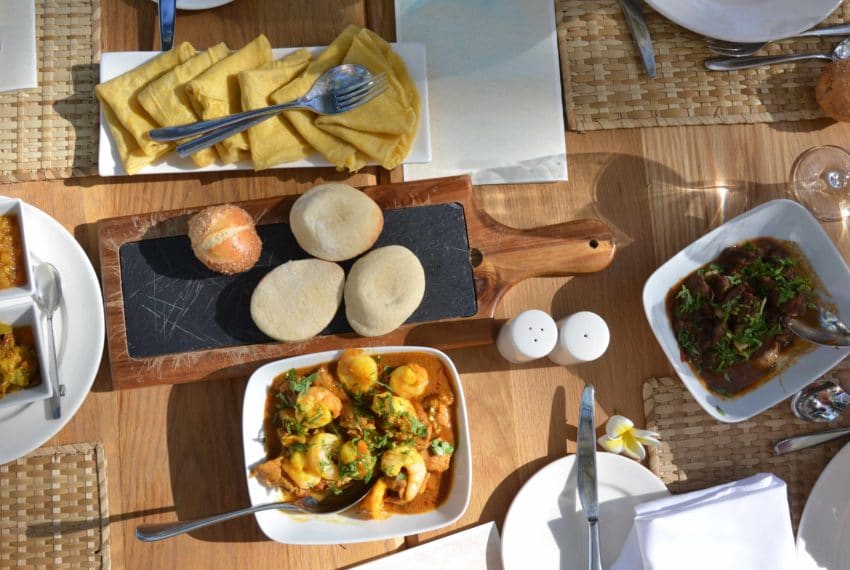 In Mauritius, gastronomy has no borders. The island, which eRenjoys an exceptional cultural mix, offers a varied cuisine, perfectly mixing Indian, Creole, European, Asian and Muslim tastes. This gastronomic community attracts a very large number of visitors and foreign investors who do not hesitate to settle on the island, just to discover more Mauritian culinary art. Because we must not limit ourselves to the traditional cuisine of the hotels to taste the real Mauritian cuisine.
The best Dholl Puri at Dewa (Indian cuisine)
A true Mauritius culinary institution, Dholl-puris (pronounced "Dal pouri") are delicious salted pancakes made from crushed yellow split peas. As an accompaniment, chatinis (or spicy sauces) and various local vegetables are usually served.
For 20 rupees, you can taste the best Dholl Puri from Mauritius at Dewa, the country's leading recognized supplier. This craft production unit supplies four specialty stores to date, each producing nearly 10,000 patties per day by hand.
The irresistible dim-sum at the Golden Hong Kong Palace
Although it is the smallest, the Chinese community is very present in Mauritius, especially in terms of cuisine. In Mauritius, we are talking mainly about a cuisine of Cantonese origin prepared from local products. These include cabbage meatballs (Niouk Yen), a perfect blend of cabbage, dried meat and tapioca.
To taste them, simply go to the paradise of the dim-sum (small steamed baskets), known as the Golden Hong Kong Palace of Rose-Hill. You will taste a variety of steamed specialties: cabbage balls, buns and ravioli.
The cruise-barbecue duo at the Ilot Gabriel (Creole cuisine)
Would you refuse a fresh fish barbecue served in the heart of a lagoon with turquoise waters? Prepare for a full day of authentic tasting aboard a catamaran, sipping fresh drinks and lunch by the water. Take your lunch in an idyllic place, with a gastronomic formula that will stay in your memories for a long time. To digest this delicious meal, you can then snorkel and discover the magnificent coral reef that houses the cliff of the Coin de Mire and its famous paille-en-queue birds.
L'escale créole in Moka
To spend a stay in Mauritius without tasting the authentic Mauritian Creole cuisine would be a real shame. At L'escale créole, one of the most famous places on the island to enjoy a typical Mauritian meal, we serve an exotic menu mixing Indian, Southeast Asian and French cuisine. Served in a beautiful green setting typical of the Moka region, you will not miss the Salmis de Cerf, a meat cooked in a wine sauce and scented with sweet spices to lessen the taste. This dish, which originated from French pheasant salmis, also represents a traditional Mauritian dish. On the menu at the creole stopover, you can also try the Rougaille sausage, the Vindaye fish, the chicken curry or the ourite curry with papaya.
Mike Snack of Port-Louis
Port-Louis, the capital of Mauritius, is worth a visit, if only for its famous market and the restaurant «Mike Snack». Located on a non-commercial street, the restaurant is frankly nothing original. But as soon as you walk through the door and let the atmosphere take you away, you enter an authentic world that is worth a visit.
Mike Snack impresses his guests daily with a local theme – Creole, Indian, Chinese, etc. that he presents under three or four different dishes. It is the ideal place to visit for a tour of traditional Mauritian cuisine. Many foreign nationals choose this address for tasting sweet cakes, small taro fritters, a typical Mauritian dish that makes Mike Snack and the entire island famous.
This unofficial list of the best places to visit to discover the authenticity of Mauritian cuisine gives you an overview of the interesting activities to do in Mauritius. While staying at home, you will have the pleasure of discovering other typical places that you will add to this culinary repertoire.